Characteristics

Advanced network protection for your business.

This mini appliance protects your LAN by blocking in real time any outbound connection (your LAN to Internet) or any inbound (from Internet to your systems) to/from any known site that hosts malwares,trojans or ransomwares. Blocking mechanism is IP based.

NO network changes required . Layer-2 configuration
Supports both outbound and inbound traffic inspection
E-mail & SMS alerts (optional)
Automatic Updates
Easy to use web interface
Advanced reporting capabilities

Model Info

Model : SPA-10
Ethernets: 4-ports (10/100 mbits)
CPU : Intel Core-2 Duo
Memory: 2GB
HDD : 16Gb
Throughput : 100Mbits/s

Network Diagram

How it Works

Common scenarios

The attacker send a "legitimate" email to his victim containing a URL to a website. The victim clicks on the URL and downloads a trojan (might be a java script). This script contacts the C&C (Command and Control) server operates by the hacker in order to download the ransomware and required keys to encrypt the victim's data.

SPA-10 sits in the middle of this communication and blocks any connection to or from known sites that host this kind of software. The appliance does not include any signatures but the IP addresses of these servers. The blocking mechanism is based on the advanced Layer2 firewall included in our detection engine.

The IP database updated every 30 minutes.

SHARE THIS PRODUCT

RELATED ITEMS
Characteristics
Advanced network protection for your business.
This mini appliance protects your LAN by blocking in real time any outbound connection (your LAN to Internet) or any inbound (from Internet to your systems) to/from any known site that hosts malwares,trojans or ransomwares. Blocking mechanism is IP based.
NO network changes required . Layer-2 configuration
Supports both outbound and inbound traffic inspection
E-mail & SMS alerts (optional)
Automatic Updates
Easy to use web interface
Advanced reporting capabilities
Model Info
Model : SPA-10
Ethernets: 4-ports (10/100 mbits)
CPU : Intel Core-2 Duo
Memory: 2GB
HDD : 16Gb
Throughput : 100Mbits/s
Network Diagram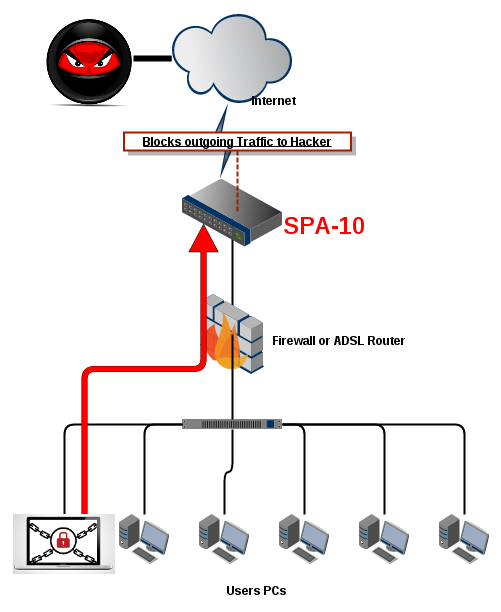 How it Works
Common scenarios
The attacker send a "legitimate" email to his victim containing a URL to a website. The victim clicks on the URL and downloads a trojan (might be a java script). This script contacts the C&C (Command and Control) server operates by the hacker in order to download the ransomware and required keys to encrypt the victim's data.
SPA-10 sits in the middle of this communication and blocks any connection to or from known sites that host this kind of software. The appliance does not include any signatures but the IP addresses of these servers. The blocking mechanism is based on the advanced Layer2 firewall included in our detection engine.
The IP database updated every 30 minutes.
SHARE THIS PRODUCT
RELATED ITEMS